Page Created 9/6/01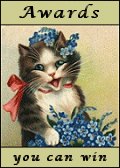 The Kitties and I have been so delighted, thrilled, excited and happy about each and every award that we have been given that we decided it was time for us to return the goodwill.

Below are the awards that we are presently giving. Under each award I have given a little hint as to what it takes to receive one of these awards.
Our Award Guidelines
Our awards will only be given to sites that are family appropriate. We are a "Family Friendly Site" and intend to keep it that way.

Our awards will not be given to any sites with content - or links to other sites - we consider offensive in any way. Things we consider offensive include:

Foul language, profanity
Degrading of animals in any way whatsoever
Any content of an 'adult' nature

All awards we give must be linked back to us at this address:


http://lovecats4x.tripod.com/index.html

if you want to be listed on our Award Winners Page. One more thing - please let us know when you have it up on your site.

If you would like to apply for one of our awards, please email us with your site URL and if you have a particular award you would like to receive. We will visit your site and notify you by return email which award the Kitties want to give you. You are also welcome to nominate someone you feel is deserving of an award.

Thank you!

Sam is very enthusiastic about life and thinks that having his own web pages is just about the greatest thing ever - so if you have a web page or website that reflects joy, love of life, or love for your pet, and is easy for him to paw around in, I have a feeling that Sam would just love to give you his award.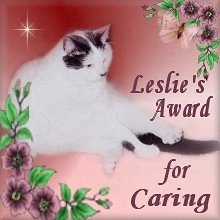 Leslie, being a gentle spirit, likes to see websites that show compassion, love and concern for animals. She especially loves websites that promote finding loving homes for the homeless and that speak out against animal abuse.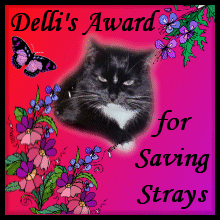 Delli is not about to forget how terrible it is living outside in the rain and having to hunt and beg for food. She will always remember what it's like being yelled at and having meanies throw rocks at her to force her to leave their yard. She remembers what it was like! Her first human abandoned her when she was a tiny baby and she doesn't want any kitty to have to go through that. If you talk about saving strays on your website, Delli would show her gratitude by giving you her award.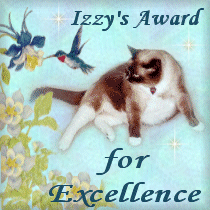 Izzy is pretty picky and has high standards - that's why she chose the Award of Excellence! She is looking for sites that are easy to navigate, don't have broken links, offer information that will help people be good guardians of their pets, and sites that get the message across that all animals deserve love and respect.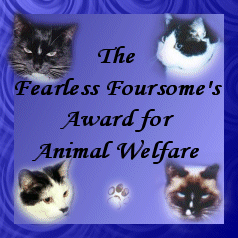 The Fearless Foursome and I feel very deeply about the welfare of all animals on our planet. To win this award you must show your support of at least three (3) of these issues:

Spay/Neuter pets
Shelter adoption
Responsible guardianship
An end to homelessness
An end to animal cruelty, neglect and abuse
Animal welfare
Animal rights
Kindness to all animals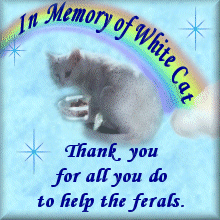 The care and management of feral cats has become very dear to me. This award is in memory of White Cat, the feral that I failed so miserably in saving. Poor White Cat - and the many, many others like him! This award is for anyone who is feeding a feral, caring for a feral colony, or just writing about ferals and telling others how they can help.



SITE MENU

This beautiful graphics set courtesy of:


The contents of this site are copyrightę 2000-2006, Jackie Edwards/Jacqlee (The Cat Lady). All Rights Reserved.