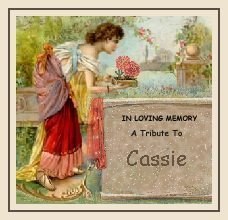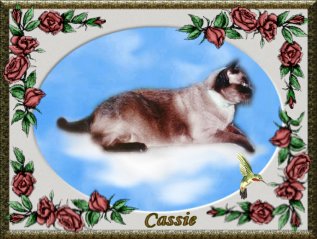 This poem is for my sister Sally, who shed many tears as she said farewell to her beloved Cassie on 3/29/03:

Angel Cats

"Angel cats are just pretend
Just sorrows that will never mend"

But if I believe that, I'm untrue
To someone who loved me and you.
For I have felt my cat's sweet weight
As she cuddles into bed so late
And heard her purrs, and felt her sigh
Mend my grief: sweet lullaby.


Faulty vision? I think not!
An angel cat, off like a shot
For that was how she ran while here:
Now plain sight, now disappear.
Angel cats are surely real
They stay in touch to help us heal
Their fur dries tears that will not dry
And as we mend, our spirits fly.

- Rachel McGrath-Kerr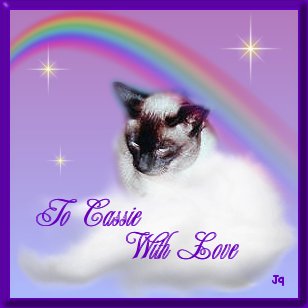 Dear, Sweet Cassie,


It doesn't seem possible that you are no longer here with us on earth. For so many years you were your meowmie's faithful, gentle companion! How long were you with us? 19 years? I know that God sent my sister to the pound that day, just to find you, fall in love with you, and give you a loving home for all your days. She loved you so much, Cassie, as I know you loved her. Unconditional love, that's what we humans learn from our beloved pets.

I will never forget your funny little voice, your beautiful coat, or your gorgeous blue eyes.

Thank you for appearing to your meowmie to let her know that you made your transition to The Rainbow Bridge safely. She needed the comfort that your visit gave her because she misses you so much.

'Til we meet again, Sweet Cassie,
Mewr Auntie Jackie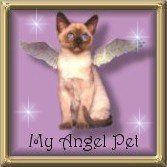 Deer Cassie Cat,

Efun dough mewr meowmie bees furry sad cuz mew went to Da Bridge, we nose dat mew bees safe an happee now an dat mew can sea agin, an here agin, an dat mew duzun't ake an hert alla da time ennymore. We misses mew, butt we awl nose dat mew bees safe at Da Bridge.

Has mew finded Otis yet? We herd dat at Da Bridge, efun d*gs bees nice!

At furst we cryed when mew left, butt we nose dat mew bees in a gud place now.

We wills trie an keep mewr meowmie laffin, okay?

Purrs an angel kisses,
Mewr Cuzzins
Sam da Man, Delli, Izzy an Leslie Anne


Visit Rainbow Bridge
Back to Rescued Cats We Know and Love
Cassie's beautiful Memorial Tribute plaque is courtesy of:





Angel Pet adopted by us in memory of Cassie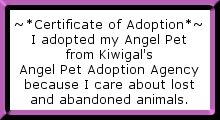 The contents of this site are copyrightę 2003, Jackie Edwards/Jacqlee (The Cat Lady). All Rights Reserved.